Why are Home Prices Increasing if the Market is Correcting?
Posted by Deeley Chester_ on Wednesday, July 27, 2022 at 3:54 PM
By Deeley Chester_ / July 27, 2022
Comment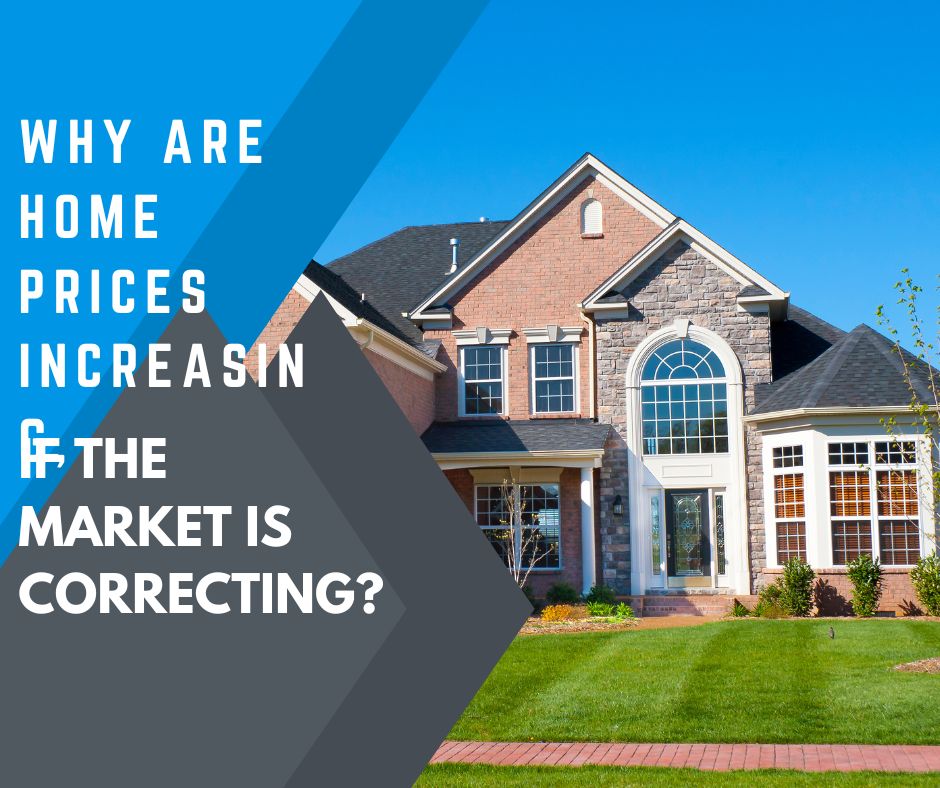 There has been a lot of news about the housing market coming to more of a balance with a slowdown in the number of mortgages applied for and an increase in inventory. But despite all of this home prices are continuing to increase. Why is this? If the housing market is correcting shouldn't prices at least be staying still?
Data shows that home prices have risen an astounding 31% over the last two years according to data from realtor.com.
Will home prices ever fall?
One of the biggest questions on many people's minds, both homeowners and homebuyers alike, is if home prices are going to decrease in the near future. And how much will they decrease?
Several real estate experts are anticipating that the rate of increase in home prices is going to slow down as the year goes on and others are anticipating that prices will flatten out.
One thing many real estate experts are saying is that it's going to take a little bit of time for the state of the market to continue to turn where home prices begin to reflect a more balanced market.
What ultimately happens with home prices across the country will depend on the activity in individual real estate markets. Some speculate that home prices in areas that saw the largest price increases during the pandemic stand to correct the most. As fewer people move into these areas the market will balance out more and more with time.
As to whether home prices will decline it really depends on the particular aspects of a certain locality. In some cases, it could be possible for home prices to decline but in a majority of areas across America, they are not expected to decline at all.
So what does it mean when you hear the term housing correction right now?
Currently, when you hear new stories about a housing price correction it is referring to a slower amount of sales and a larger amount of available homes in many locations across the country. And this is still good news for hopeful homebuyers as the competition is beginning to cool off with multiple bidding situations.
This is not bad news for home sellers that have their homes priced at a fair market value either. While homes are not seeing a large number of offers that they once were and may not be selling quite as quickly they are still selling for a good price and at a good pace. There is more inventory on the market than there was just a few months ago but the inventory is still low as compared to the past.
The National Association of Realtors reports that there were 6.1 million homes sold per month in 2021. This number only reflects sales of previously owned homes and not new construction. In May 2022 the average number of homes sold per month for the year of 2022 came in at just 5.4 million sales per month. This is a large change. Some experts say that these numbers are back to pre-pandemic days.
Land rarely ever decreases in value
It is very rare to see a home take a decrease in price. Looking back over real estate history it has rarely ever happened. For the most part real estate continues to grow in value with time. As such it is normal for homes to continue to increase in price. Though the rate of increase over the last few years was not normal it is expected for the rate of increase to normalize back to 3 to 4% in the next few years.
For more information on real estate in West Ocean City Maryland and surrounding areas please contact us anytime.
More for Home Information
7 Signs You're Ready to Buy a House
The Difference Between Second Homes and Investment Properties
Tax Responsibility for Second Homes
How Much Can a Homebuyer Save on Taxes?