Ten Simple Steps to Buying a Home
Posted by Deeley Chester on Tuesday, April 20, 2021 at 8:35 AM
By Deeley Chester / April 20, 2021
Comment
I personally don't know many people who get excited about going through the process of buying a home. Most people, I would venture to guess, are more excited about the end result: owning a new home. Buying a home can be stressful on a good day, let alone when inventory is low, and a pandemic throws extra challenges into the mix. That's why we're going to run through ten simple guidelines to know before you jump right in to buying a home.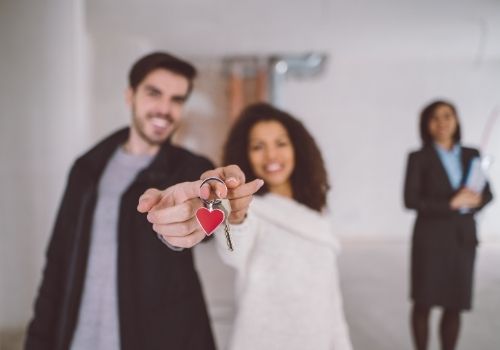 #1. Know your credit score
You may already be aware of this, but a good credit score gives you an advantage in securing a solid home loan. That's why it's important to keep tabs on your score and do everything you can to get it as high as possible. Most experts recommend somewhere between 670 and 739 as a reasonable level of good credit. If you can get it even higher than that, you're in even better shape!
#2. Know your budget
A basic rule of thumb when entering any major financial decision is to know in advance what you can and cannot afford. Don't rely on what you hope to earn in the future. Focus on the present and do your best not to break the bank.
Related: 7 Ways to Get Your Offer Accepted in a Seller's Market
#3. Get a reliable real estate agent
Don't simply hire just anyone to represent you in your pursuit of a home. Get someone who truly understands your situation and has your best interests in mind. Although there's no need to spend a fortune on an agent, it's also wise to find one who has a successful track record, even if it means paying a little extra.
#4. Get pre-approved for a home loan
Particularly in a low inventory housing market, having a pre-approval for a home loan gives you the leg up above the competition of other home buyers. A pre-approval simply means the lender has given you approval for an amount you can be loaned for a home under certain conditions.
#5. Begin the search
Once you've found the right agent and gotten pre-approved for a loan, you're ready to begin seriously searching for your home. Take a look at the list of possibilities your agent sends you and narrow down the options based on what matters most to you in a home.
#6. Tour the home(s)
Once you have a good idea of what home or homes you'd like to consider, you should schedule a tour with the seller and see what it has to offer. It's one thing to see a few pictures online; it's another to see it for yourself in person.
#7. Submit an offer
When you feel comfortable enough with a house and are ready to take the next step, then it's time to make an offer. The best way to do this is to consult with your real estate agent on what a fair offer sounds like. Typically, your agent will look at the CMA, or Comparative Market Analysis, to get a good idea on what market value is for that type of home in that type of neighborhood.
#8. Schedule your home inspection
This is one of the most important steps in the home buying process. Not only do you want to make sure there are as few surprises as possible, but you also want to ensure there are no faults in the home that could go against your lender's conditions for offering you a pre-approval.
#9. Get your finances in check
Before you're ready to seal the deal on the home, you'll want to make sure the remaining paperwork and finances are taken care of. Part of this process involves your agent hiring an appraiser to make sure you're getting a fair market value for the home. You'll also want to make sure you have homeowner's insurance to protect you and your family.
#10. Seal the deal and move in
After all of the above steps are complete, it's time to make it official and get ready to move in! Feel free to do a final walkthrough to ensure any needed repairs are complete and the seller honored their end of the agreement before you finalize the move-in process. Enjoy your new home!
Ready to Get Started? Contact Us Below!