Should You Purchase a Second Home? Tips for Deciding on Whether its the Best Time to Purchase
Posted by Deeley Chester_ on Wednesday, August 10, 2022 at 1:33 PM
By Deeley Chester_ / August 10, 2022
Comment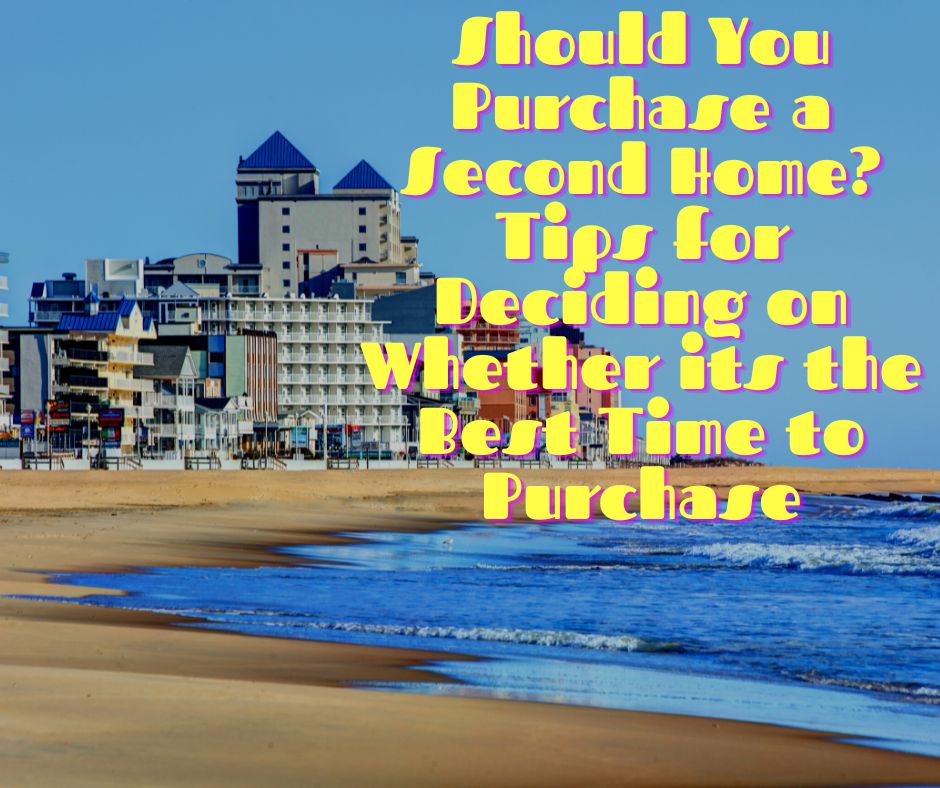 In thinking about buying a second home maybe you have always wanted to try flipping or would like to find a new way of bringing in an added stream of income. Or maybe you just want a place in your favorite destination to be able to get away from the craziness of every day life.
No matter the reason for purchasing a second home it is a very large investment and seen as riskier to a lender than purchasing the first home. This is why it is very important to ask yourself if it is a personal decision that is right for you at this time.
Here are some tips for making the decision to purchase a second home
Ask yourself what you will use the second home for
The first thing to help you decide if you should make this big financial purchase investment is to decide why you will be purchasing the home and what you will use it for.
Purchasing a vacation property
Maybe you want to find that perfect Ocean City beach property so that you never have to be subject to choosing another date because everything is all booked up. But you want to consider how many times you actually do visit your dream destination every year. If you only plan to go three times or less there might be a more monetarily beneficial way of doing so.
Making money from a rental property
When it comes to owning a rental property it comes with a lot of commitment that you should make sure you are ready for. Rental income is not always guaranteed, even in very popular areas such as Ocean City Maryland. You want to make sure that you are doing your homework on any property and its potential for being a truly profitable rental. You also want to make sure that you have the availability to handle the stressful responsibilities of a landlord.
Making a lump sum by flipping and reselling
Flipping a house can be a good way to generate some extra money if you are ready to get in and help with some of the work. It is not always easy or seamless as home makeover shows make it seem. You want to make sure that you ask about the process from someone who has done it before so you know that it really is something you want to get into.
Know that a second home is truly and comfortably affordable for you
The most important question to ask when puraching a second home is if you can truly afford to pay for a second home and still live within your means.
If you are able to purchase a second home entirely with cash then you would obviously think the answer to whether you can afford a second home is a resounding yes. But before you go out and spend this cash you want to make sure that you are not completely getting rid of all of your liquid assets. We have all heard the cliché don't put all of your eggs in one basket. It is always best to make sure that you have plenty of money that stays what is considered liquid or readily usable for any emergency that may come your way.
Additionally you want to be able to save up another emergency fund just for paying for this second home. Since you own a first home you are well aware of the costs that come with home ownership including insurance, utilities, and repair and maintenance. You want to have a separate fund that will pay for all these items on your second home as well as any unforeseen emergency repair you may need to make.
As far as taking out a mortgage to finance a second home, you want to make sure that the second property does not take a large amount of the extra income you are bringing in and are able to spend. Having a second home is a nice luxury but you want to make sure that it does not become a regret when it ties up all of your money and you're an able to pay for other things you would like.
Buying a second home can be highly beneficial whether it is to relieve stress and be able to take your vacation in your favorite spot at any time that you want or it is to generate some extra income to help provide more of a cushion for daily life expenses and help you prepare for any life emergencies that may come along. But it is a purchase that should be made with plenty of forethought.
For more information on purchasing a home in Ocean City Maryland and surrounding areas please contact us anytime.
More for Home Information
7 Signs You're Ready to Buy a House
The Difference Between Second Homes and Investment Properties
Tax Responsibility for Second Homes
How Much Can a Homebuyer Save on Taxes?