Purchasing a Vacation Home Together with Extended Family (and Keeping Your Sanity)
Posted by Deeley Chester on Friday, March 17, 2023 at 4:59:04 PM
By Deeley Chester / March 17, 2023
Comment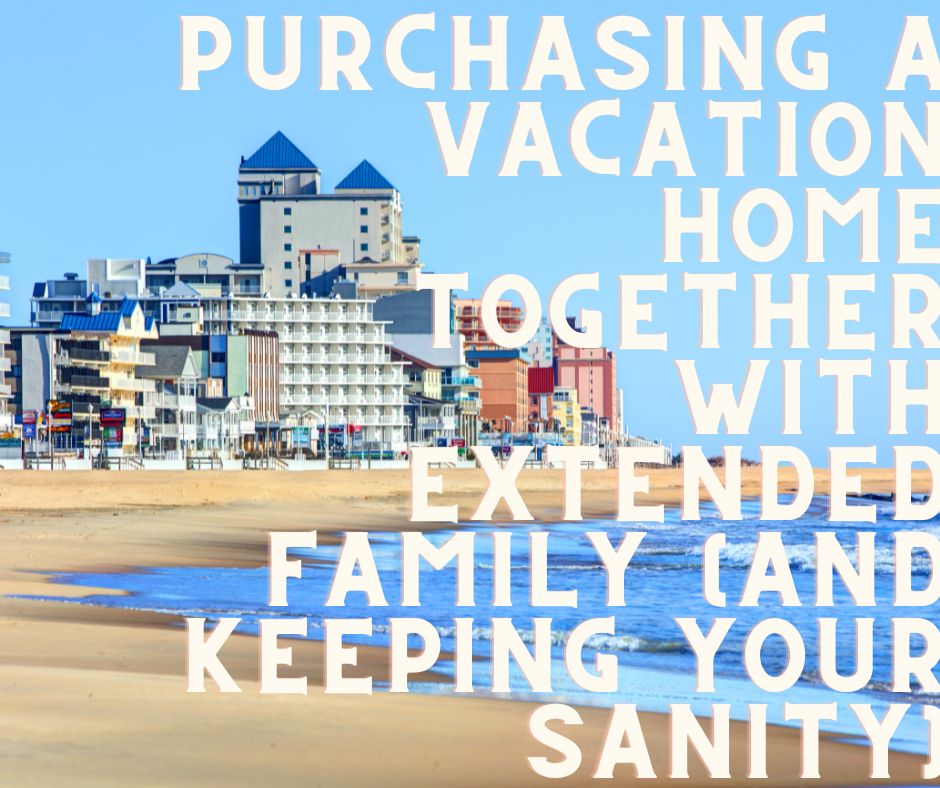 The possibility of purchasing a vacation home in a dream destination like Ocean City Maryland near the water in one of the most popular beach towns is growing on many people's goal lists.
But for many, the actual realities of purchasing a vacation home may be just beyond their reach. It is growing in popularity for those interested in vacation properties to consider splitting the financial obligations with family members. But even teaming up with some of the people that are most important in your life can bring some headaches and strained relationships without proper preparation.
Here are some tips for purchasing an Ocean City vacation property with family to help the process go smoothly
Consider the setup of a TIC or LLC
When one property is under the ownership of two or more purchasing parties that are not married it is a good idea to set up a tenancy in common or a limited liability corporation. Some people choose the TIC route as it does not involve as much paperwork and can save some money on setup fees. While it may seem less hectic to go this route some real estate experts advise that the LLC is worth the extra effort. It gives each owner an individual identity for tax purposes and still offers the protection of a corporate liability shield.
Essentially the LLC gives more protection to each individual owner of the home. If a member of your extended party that you share ownership with invites people over and someone has an accidental injury it can help to protect the owners from lawsuits that they had no part in.
Make a plan for the responsibilities of homeownership
A vacation property is much like a first property with its needs for maintenance and upkeep. It will also need insurance and taxes to be paid. The LLC is beneficial in this area as well. It will require that an operating agreement be drawn up. It is a good idea to have a lawyer put together this operating agreement so that it is standing and binding.
In the operating agreement, it is good to write out in detail the amount of responsibility for each area of needed attention at the property. For example, you could include that the property taxes will be 50-50. You could include that one family unit will be in charge of landscaping while the other will take care of maintenance tasks on the inside of the home.
The more detailed you get with your operating procedure the less stressful it will be when you take ownership of your Ocean City vacation property with your family. Everyone will have a clear picture of what is expected of their part in the homeownership. You may from time to time need to have a conversation if someone is letting their area of care ago but the conversation will go more easily because you have already talked out who is responsible.
Determine who will get to stay at what times
A big potential for having disagreements and frustration with extended family members over vacation home ownership is deciding who and when someone will use the property. You might decide that you want to reserve Christmas for everybody to come together for example but maybe two days before Christmas you want to reserve it for your family to have their own time together and allow the other family to choose if they would like their own time to use the home around the holidays.
There might be a weekend in the summer when you would like to take a trip with only your immediate family instead of having all of the owning families at the home at once to help you relax in a quieter space. Sitting down with your immediate family and figuring out what you would like from the usage schedule of the property and having each other immediate family do so as well and then coming together can help you to finalize a schedule everyone agreed upon.
Discussing if you will rent
One of the most lucrative ways to help pay some of the cost of vacation home ownership is to rent out the home to short-term vacationing guests. It is a good idea to sit down with everyone that has a stake in the property to decide if you'll open up your home for renting and what dates will be reserved for those rentals. You don't want to not discuss this and go up to the property to find strangers that your other family members have allowed to stay at the home.
The more you talk out the aspects of vacation homebuying with your family beforehand the better the process will go instead of figuring it out as you go along. Another great thing to sit down and discuss is the specific location you want to focus on and the actual attributes of the home.
For more information on vacation home purchases in Ocean City Maryland please contact us anytime.