Landscaping Practices That Improve Your Home's Value
Posted by Deeley Chester_ on Tuesday, April 26, 2022 at 11:53 AM
By Deeley Chester_ / April 26, 2022
Comment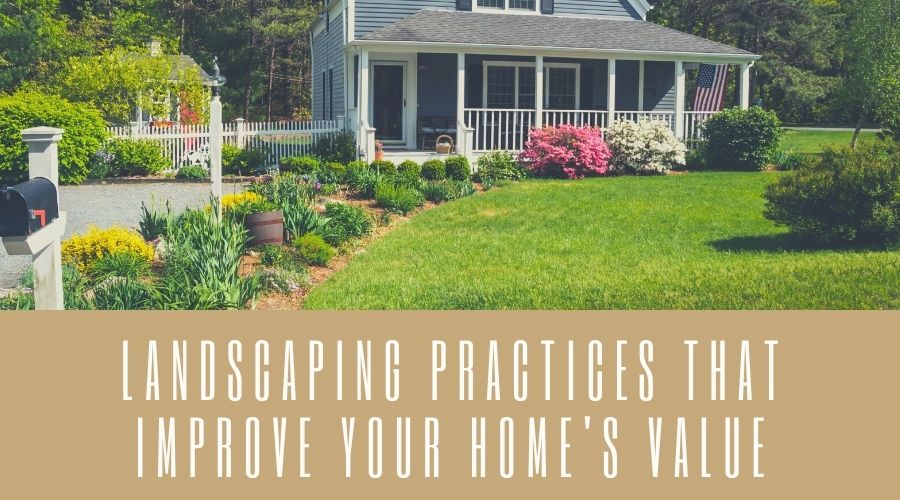 Well-groomed outdoor spaces around your home can add tens of thousands of dollars to the value of your property. Outdoor spaces set a tone of curb appeal as well as communicate outdoor space that is an extension of the home. Since just a few years ago many people were shut into their homes outdoor spaces have become even more desirable than they were pre-pandemic.
How significantly landscaping can increase property value
A home with a well-landscaped yard has quite the price advantage over a home that has no landscaping or neglected landscaping. Of course, this does depend upon the part of the country that the property is in. Desirable landscaping can improve home value anywhere from 5 to 13% depending upon the type of landscaping and the value of the home on the property. This can be anywhere from an extra $16,500-$38,100 of value to a home priced around $300,000.
Landscaping that adds the most value is a yard that looks at the whole picture when it comes to the outdoor space. Outdoor spaces that are the most appealing to buyers are those that are well-kept in layout and have a thoughtfully placed design that works well with the architecture of the home. It also takes into consideration the atmosphere of the neighborhood it is in.
Some landscaping tips and tricks
There are some easy things you can do to instantly add appeal to your landscaping and make it look like it is well-kept and taken care of even if you have not been the biggest garden enthusiast of homeowners.
Start by cutting fresh edges around planting beds and making an extra effort to have a sharp and well-defined edge between the grass and the mulch or dirt in all of your flowerbeds. This instantly gives landscaping that professional well-groomed look.
Make sure that trees shrubs and bushes are well pruned. You don't want these items to feel like they have overgrown their space. You want them to keep a nice shape that is tight and tidy. This is especially true if you have any of these items closer to your home. Plants should never be growing right up against the siding of the house. Not only is it unsightly it can also be a cause for other issues to the structure of the home. Furthermore, this will be pointed out by a professional inspector.
Of course, you want to make sure that your lawn is cut to keep it neat. The unsightliness item in landscaping is an overgrown lawn or one that is just slightly longer than it looks like it should be. To keep your lawn lush and green begin with regular fertilizer treatments to encourage growth.
Planning out landscaping that works with your space and home
If you are not planning to move and are hoping to get your yard in shape so it looks like it has always perfectly been designed that way, you want to make sure you do it right. One mistake that a majority of homeowners make is not having a plan or a big picture for how the entire yard will work into one big plan.
There are several landscapes out there that feel like a hodgepodge of the mess that has no overall theme or plan to it. This feels overwhelming to the eye and like a mess to a spectator. A good idea could be to hire a landscape professional just to get insight on how you should plan out your space and design it for that big picture art-like feeling that is most appealing.
For more information on purchasing a home in West Ocean City and surrounding areas please contact us anytime.
More Advice for Home Sellers Preparing Their House
Exterior Maintenance for Coastal Homes
How you can finance your home to make Repairs
Can Playing Music Help Sell a Home?
What is Your Home Worth? Find Out