Enjoying Thanksgiving in Ocean City Maryland 2022
Posted by Deeley Chester on Thursday, November 17, 2022 at 11:22:19 PM
By Deeley Chester / November 17, 2022
Comment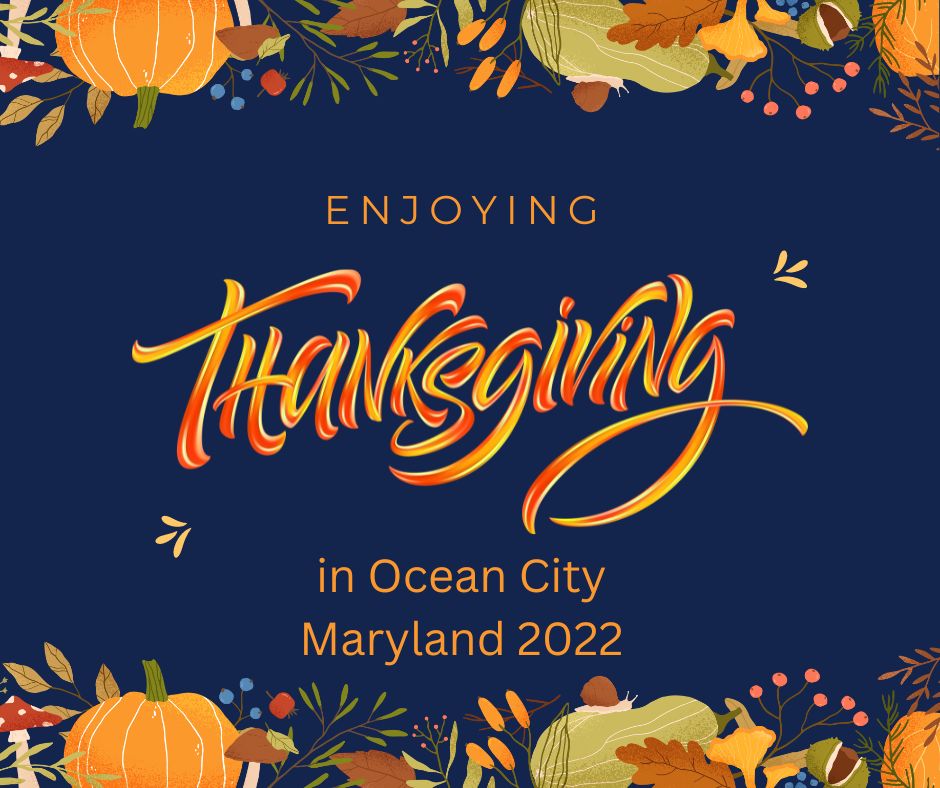 Thanksgiving is next week and it will seem like you blink and are waking up on turkey day. There's nothing quite like enjoying Thanksgiving weekend in Ocean City Maryland whether you live here or you are one of the many tourists that love to visit the beautiful city of Ocean City.
Restaurants where you can enjoy Thanksgiving dinner
There are a handful of restaurants that will be open on Thanksgiving day in Ocean City so that you don't have to do any of the cooking. Some of them feature amazing buffets and others traditional-style dinners. It is advised to call ahead to ensure you do not need a reservation or that there is plenty of room without too much of a wait.
The View restaurant at Cambria Hotel
Dinner at the View is served on Thanksgiving from noon to 6 PM. The View will be serving oven-roasted turkey, fried turkey, glazed ham, oyster stuffing, herb stuffing, mac & cheese, a vegetable medley, collard greens, sweet potato casserole, mashed potatoes and gravy, and a collection of homemade pies and desserts. You can make reservations by calling the restaurant in advance.
The Bayview Bar and Grill at the Residence Inn
Enjoy a full buffet at the Bayview Bar and Grill with all of the classic Thanksgiving favorites and a few extras. The buffet will be from 2 PM to 8 PM on Thanksgiving as long as the food lasts. Reservations are advised but not mandatory.
Crystal Ballroom at Fontainebleau
This Thanksgiving day buffet will be from noon to 6 PM you can make reservations by calling or emailing. There will be a full bar and cocktail service in addition to the buffet.
Marlin Moon Restaurant
Marlon Moon restaurant is located at Ocean City's Double Tree Hotel on 33rd St. Don't let the setting fool you this is one of the most popular and amazing Thanksgiving buffets in the city. The buffet is served from 1 to 6 PM and you can find the full menu on the restaurant's website.
Coral Reef Restaurant and Bar
Located at the Holiday Inn Hotel and Suites on 17th St. and the boardwalk. The Coral Reef will be serving a traditional Thanksgiving dinner where children five and under can eat for free.
Thanksgiving at the Shrimp Boat
The Shrimp Boat will not actually be open on Thanksgiving but will be serving its full menu the day before on Wednesday from 11 AM to 6 PM. This includes fresh oysters in the shell and the pint as well as hand-picked crab meat and cocktail-style shrimp. Of course, you can't enjoy Maryland without a good crabcake you can get them both raw and cooked at the Shrimp Boat. They will also be open the day after Thanksgiving. If you are visiting Ocean City you don't want to miss out on the Shrimp Boat.
Enjoy a vacation or staycation with a hotel package
There are many different amazing hotels scattered throughout Ocean City. It is a great way to take a full-on relaxing Thanksgiving weekend by going out for dinner and then choosing an option of a discounted hotel package. If you already live in ocean city or nearby towns like West Ocean City this can be a fun time to have a staycation getaway.
For more information about hotels offering Thanksgiving packages check out the list at oceancity.com. You can also find more restaurants that will be offering Thanksgiving dinners.
For more information on living in Ocean City including Ocean City real estate please contact us anytime.