Are You Purchasing a Home in a Good West Ocean City Neighborhood? Some Tips on Finding Out
Posted by Deeley Chester on Friday, February 10, 2023 at 6:58:46 PM
By Deeley Chester / February 10, 2023
Comment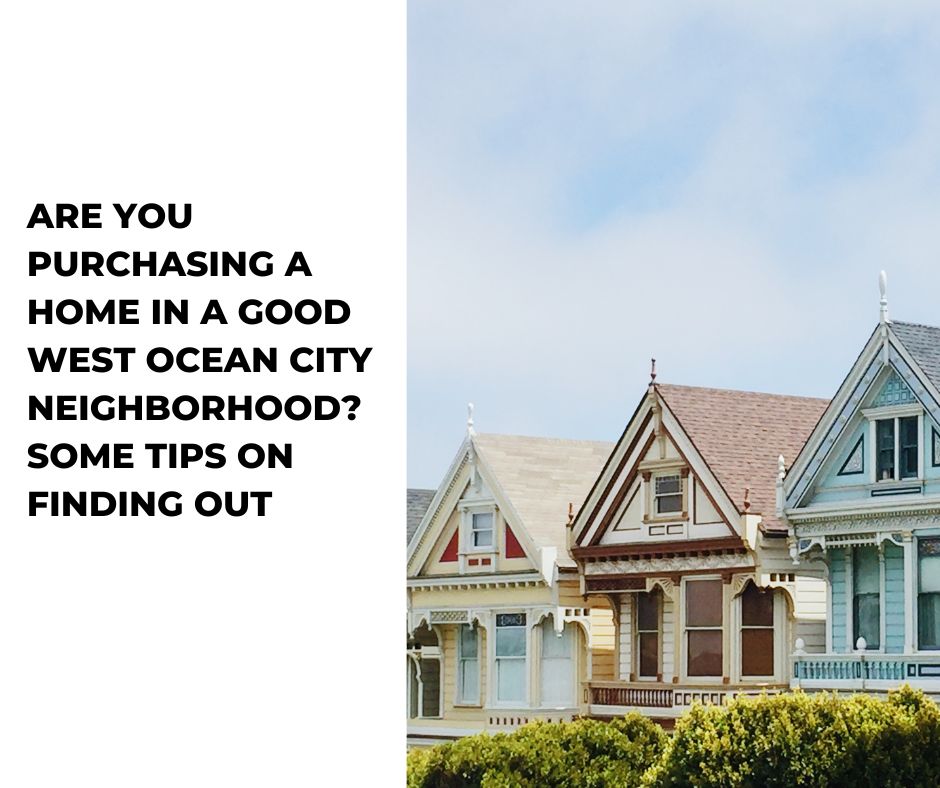 With a continued low inventory of homes, West Ocean City homebuyers have found it a bit more difficult to find a home they love. This has led some buyers to expand their search parameters to consider homes in different locations a little further out from highly competitive areas or to consider the purchase of a home that needs a little work.
In some cases drawing wider home search parameters can lead to finding a home that is intriguing, in a neighborhood the buyer may no little to nothing about. Before making a home purchase just because you have finally found a home you like, it is super important to find out if you will like living in the neighborhood.
Here are Some Tips to Help Determine if a Home is in a Location You Will Love
Nearby Options
When looking at a neighborhood consider your daily living operations and things you like to do when you get a bit of free time. What grocery stores do you like? Do you eat out on weeknights and need something nearby that can cook a meal quickly? What about fun shopping or getting the occasional treat to eat?
How close would you like to live to these types of businesses? How long is too long to drive? Is there a good selection of services as far as restaurants, coffee shops, etc?
The Commute
How much time are you willing to spend in the car to get to regular obligations? How long are you willing to drive to get to work every day? How far will you drive to take your kids to their friends' houses and to sports or other activities?
Vegetation
What about the atmosphere? The greenery? The trees? If the scenery of a neighborhood is important you will want to look around and determine if the area has a good amount of plant life and if the plant life is well-groomed. It may not seem like a big deal but research has shown locations with natural beauty can boost a mood and overall satisfaction with your living environment.
The People
Take some time to people-watch or introduce yourself to some of the neighboring homeowners if you see them out and about. Ask them about the overall culture of the neighborhood and the people living within it because they are able to give you a full and completely honest review.
What do you notice about people going about their day? Are there families out? Are there kids playing? Are these things you are looking for? Do you prefer a more quiet place?
Is Ther an HOA?
This is a very big and important factor to find out. If the neighborhood does have an HOA you will want to obtain a copy of the rules and regulations to make sure they are not more than you want to take on. Many people living in HOA neighborhoods have found that there are rules they were unaware of until a complaint has been lodged after they painted their home an unapproved color for example.
The Schools
Even if you do not have kids or kids that would be attending the local schools they can give you some insight into the culture and quality of a neighborhood. You want to do your homework on the local schools. Look at ratings and reviews, and if the school is one that families are trying to live within the boundaries of or choice into.
It is a great idea to research as much about a neighborhood as possible if you are not already knowledgeable about it. Just because you love a home does not mean you will continue to love it if you discover you are not a fan of the location.
For more information on West Ocean City homes please contact us any time.