7 Things People Forget to Do When Moving
Posted by Deeley Chester_ on Tuesday, January 18, 2022 at 9:21 AM
By Deeley Chester_ / January 18, 2022
Comment
The act of getting all of your life's belongings into boxes and moving them from one place to another is no small feat. There is a lot of detail involved in just the packing and moving your things part of buying a home that many people forget to do some items.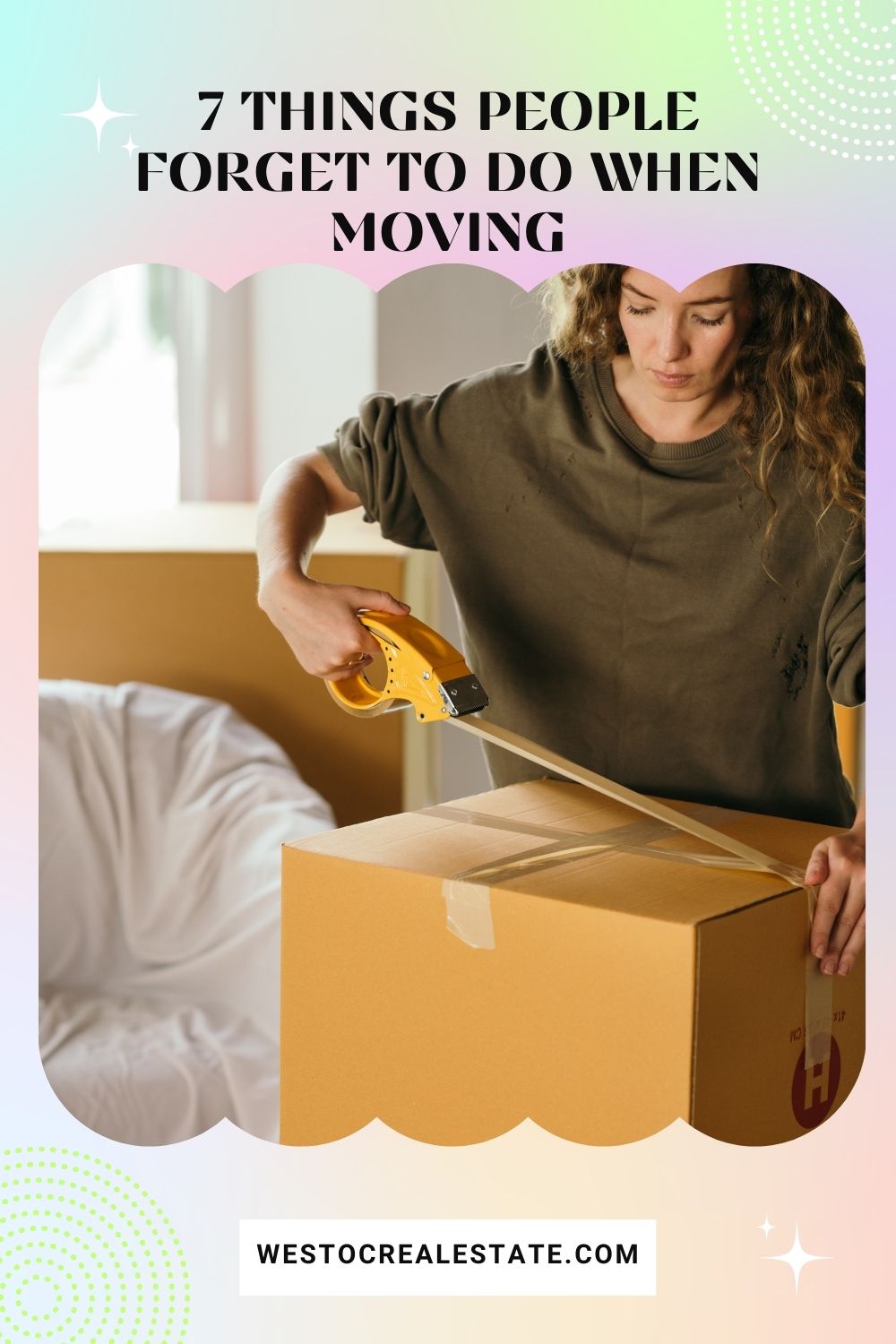 Here is a Moving Checklist of 7 Common Items That People Forget to Do When They Move
1 Month Before a Move Cancel Recurring Charges
Any recurring charges from services that you no longer plan to use once you move should be canceled ahead of your move. These items get forgotten about in the madness of everything required from you leading up to your home closing date. Items like that gym membership in a town you will no longer need to drive to should be stopped at least a month in advance as some of these require at least a 30-day notice for cancellation.
If you plan to continue any recurring charges that need your address, such as mail order prescription delivery, you will want to make sure that companies have your information and the confirmed date of when they need to switch delivery places.
Two weeks prior to a move give notice to your car insurance
It's not often thought about, but the department of motor vehicles tells people to closely manage car insurance during the process of moving. You want to make sure that your insurance company has your new address and that you have the correct coverage for your vehicle.
Some people get in an unexpected accident only to find out that they have more trouble than they need trying to get the correct funds and help because their address is not the one stated on their plan.
Change your address with the US Postal Service
Some people wait to do this until right when they move or after they move, but it is the best idea to do it at least two weeks before your actual physical move. This will help for all of your paper mail to come when it needs to instead of having a large backlog of mail that goes to your old address and then needs to be rerouted.
It is also a very good idea to make sure you communicate with any companies that send you mail on a regular basis that you have moved as well as all of your friends and family. An easy way to let everyone know is with a mass email or sending out a "We Moved " postcard to them.
Don't Forget About Financial Items
This may seem silly because it feels like all you have thought about in your home buying process is financial stuff. But in concentrating on the big picture of what your new mortgage lender needs from you, many homebuyers forget about the small stuff like transitioning monthly bills like your phone and credit cards to the new place and making sure they are paid in full up to the date of your move.
To be sure you have all of your other bills paid while attention is being demanded elsewhere consider allocating this task to one person while the other or others in the home concentrate on other things.
Pack Electronics Carefully and with Great Detail
It can be fairly simple when you are setting up an electronic item in your home for the first time because you have the instructions that come with it for install on hand. This is most often not the case when you go to unplug and move them.
A good strategy to make sure you have everything you need and know what to do when you get to your next home is to take a picture of everything before unplugging and making sure to label each cord and place it in the box with the item or in a bag that can be attached to the item.
Don't Forget About a Move Plan for the Plants
Plants have risen in popularity since the beginning of the pandemic and many people are now what they call "plant parents." It can be tricky to move houseplants. You want to make sure you have a plan for them to be moved beyond just picking them up and placing them in a vehicle hoping they don't tip over and spill dirt everywhere.
If you have plants in your yard you want to transplant it is a good idea to make a plan for safely doing so well in advance of your move.
Make a Go-to Box
You want to make sure you pack a box that will be full of items you will need for the first 24 hours of your move. Items like paper towels, bath towels, a small set of dishes, toilet paper, etc.
Additionally, every person who lives in the home should pack a suitcase of all personal items they will need for the first day or two of the move.
For more information on selling or buying a home in West Ocean City and surrounding areas please contact us any time.
We want you to enjoy these posts so check out more on buying and selling: