3 Tips for De-cluttering Your Home Quickly
Posted by Deeley Chester_ on Wednesday, June 8, 2022 at 6:13 AM
By Deeley Chester_ / June 8, 2022
Comment
One of the biggest things to get your home ready to list for sale and be seen by potential buyers is decluttering and cleaning. But if you live a busy lifestyle where it seems like you drop and go every day the task of decluttering can feel daunting.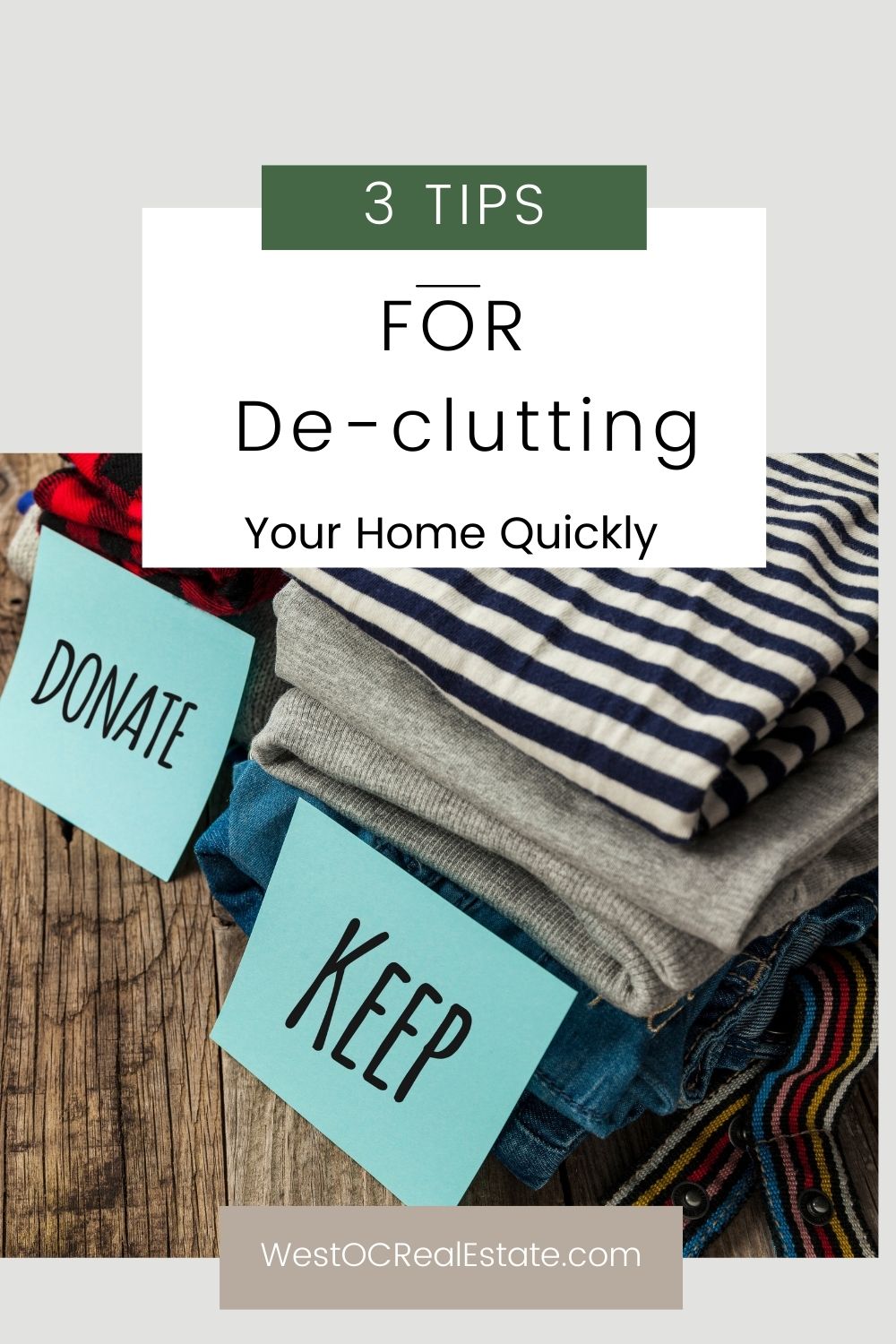 It can also feel stressful to keep your home clutter-free when you have a very busy and hectic daily schedule in preparation for those real estate agents that are supposed to make appointments for in-person showings but still call you when they are just around the corner with their clients and ready to see your home in the next 10 minutes.
A home that is full of someone else's personal belongings can make it difficult for a potential buyer to imagine themselves living in the space. It is not uncommon for some buyers to continue on with their home search wanting to see other properties because they cannot imagine what it would look like to live there themselves in the way they hoped their new home would look.
Taking time to make sure your home is decluttered and pristinely clean often translates to higher home offers and a quicker sale. Numbers and research have estimated that clearing out clutter and making sure your home is immaculately clean can increase a home's value by 3 to 5%.
It is worth it to declutter even if it feels like a big daunting nuisance staring you in the face when you just want to get your home listed and sold.
Here are some tips for decluttering quickly and with less stress
Start a list
An easy way to begin your decluttering adventure is to write out a list of what needs to get done. It will help you to stay organized and not forget about something. Realizing you forgot it at the last minute creates more chaos. Start by listing out all the rooms in your property in order of their clutter or messiness.
Look over your schedule and decide what amount of time you can give to decluttering on what days. Once you have set out a schedule get ready to make piles of what you hope to keep, what you need to throw away, and what you might want to donate to someone that could make better use.
Communicate that it is a family task
If there is more than one person living in your home every person should sit down together and formulate a plan for decluttering as a team activity. Do not take on the task yourself make sure to employ the help of everyone who lives in the home. This is truly a time when many hands make light work.
The most obvious of assignments could be to assign everybody their own bedroom. Past that, you can assign people spaces that they might utilize the most to help them feel more motivated to pack up things that they would like to see in their next space.
Stick to business don't get too sentimental
Several homes across America have far too many belongings within them that rarely see any use. While this is not uncommon it is also not helpful when you are trying to move from one place to another. When you are going through your items try not to get too attached to them and strictly stick to the business of asking how often items are utilized within your home.
Do not take too long to sort through your belongings because you begin to think about how you might start to use them now that you have re-discovered you have them. Simply stick to the business of keeping only things that you truly use and packing those away and throwing out or donating items that just sit around.
With the right plan, help, and execution you can have your home decluttered in just a few days.
For more information on purchasing a home in West Ocean City and surrounding areas please contact us anytime.
More Investment Tips: